About the Company
Lumos is a developer of utility apps for iOS and Android devices with 1M+ active daily users. Lumos' apps protect privacy and optimize the performance of mobile devices.
---
Case Study Description
Lumos uses a subscription-based monetization model in their apps, thus they needed to know how much they could spend on one trial in any country. Such well-known metrics as ARPU, ARRPU did not give an unambiguous answer to their question. Considering this feature request, our team decided to add a new metric to the Apphud dashboard - Average Revenue Per Activated Subscriber, including lifetime purchases. The ARPAS metric has become the basis of Lumos' marketing strategy.
Using the new dashboard as a key optimization metric, Lumos increased its Product Revenue by 21% month-to-month while maintaining a positive ROMI.
---
ARPAS metric
ARPAS = (sales or proceeds) / (trial started + subscription started + non renewing purchase) users count
ARPAS is a metric that helps to optimize an ad campaign's bid as it counts only users, who performed the valuable (in terms of monetization) actions within the SKAN-attribution time frame.
To find ARPAS in the Apphud Charts, go to the ARPPU chart and select Calculate users by events - Purchases + Trial started.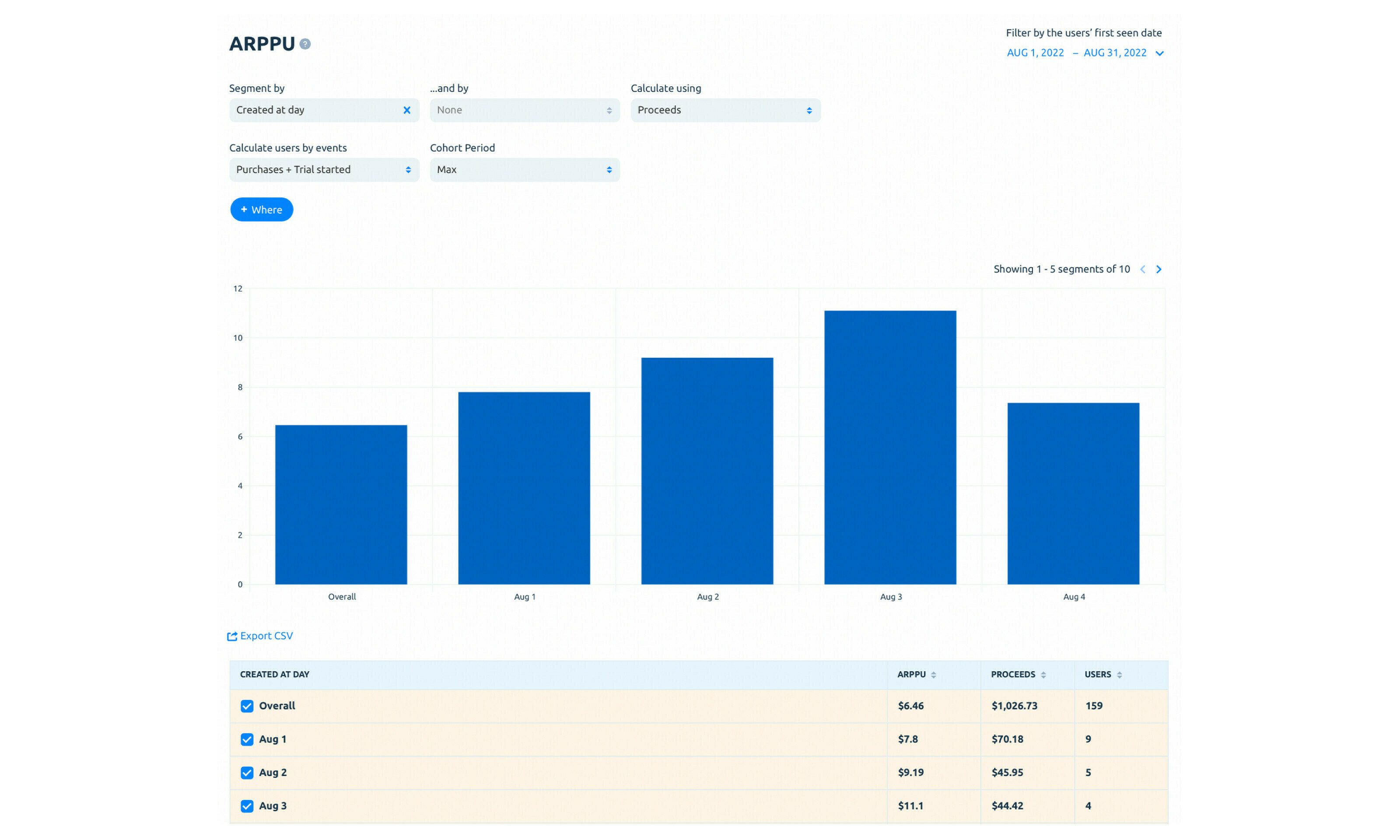 ---
User acquisition optimization
With Apphud, the Lumos team is constantly analyzing paying user cohorts and updating the target metrics for the user acquisition team. Using the new metric they recalculated unit economy and discovered that they could raise advertising network bids by 15% on average, and even by 30% for specific ads. Raising bids in auctions helped to buy more installs, and actions with maintaining a positive unit economy.
---
Conclusion
The User Acquisition process is one of the most common ways to lead new customers. Double-check your user acquisition benchmarks are considered before launching a campaign to ensure the campaigns actually generate revenue, not just spend money. That is why accurate analytics and events optimization tests are so important. For subscription apps, we recommend trying a new ad campaign optimization event - trial_started, and analyzing the results with the ARPAS metric, based on the accurate Apphud data.
Want to multiply your app revenue too? Book a demo with our team and we'll answer all your questions.