Manual / Scheduled Rules
We've got a lot of requests to move forward from the only event-triggered push messages to the manual and scheduled Rules. And finally we're happy to announce that 🎉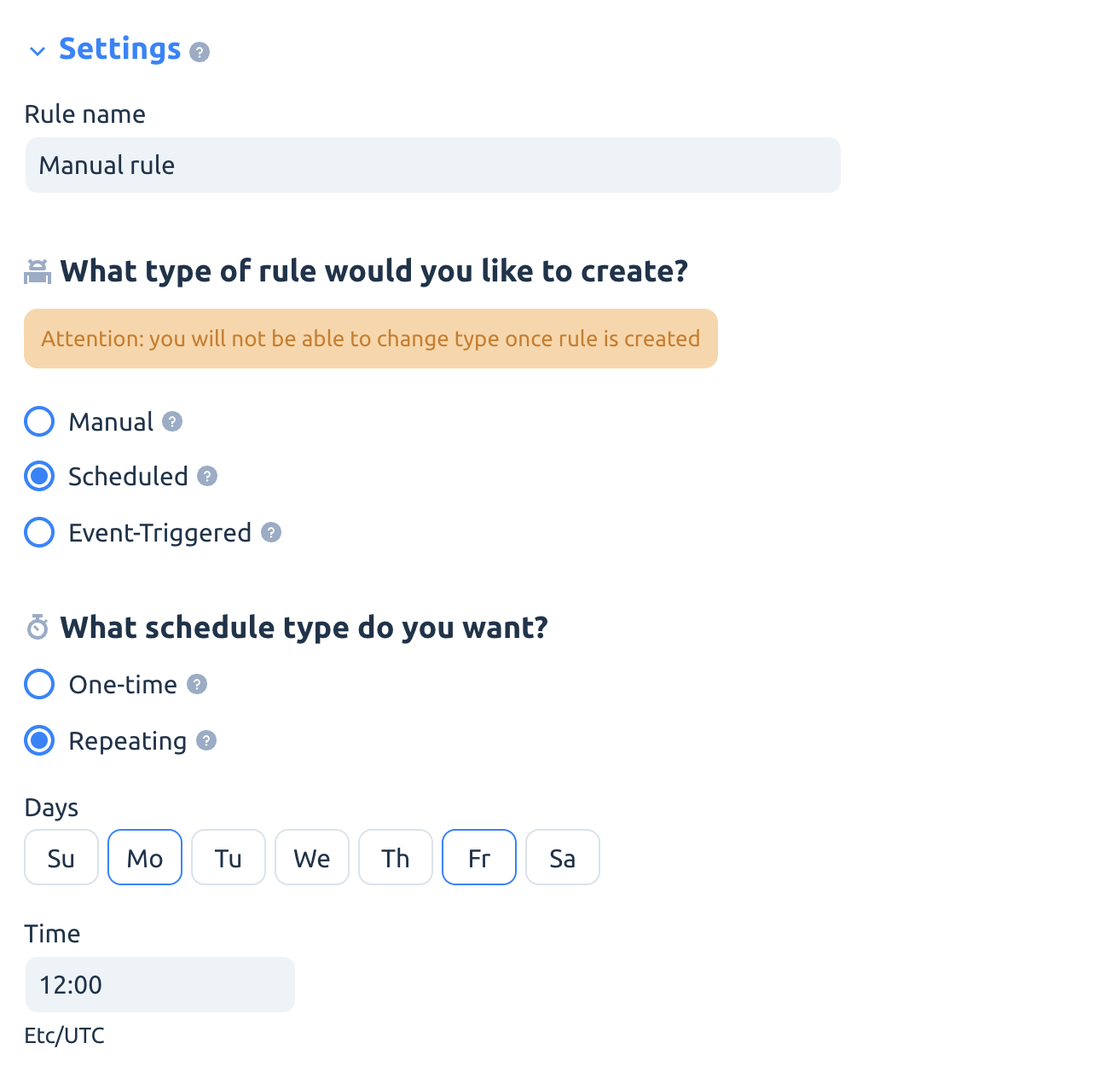 So, here we have the new 2 types:
Manual Triggered Rule lets you run a push notifications campaign at any time by a button click. There is no condition by event, just define your audience and set up a Push message and/or in-app Screen. Start interacting with your customers whenever and however you want.
Scheduled Rules will be performed at a certain time. Deliver important messages and in-app interactions at your specified day and hour or on the regular repeating basis.
You can find detailed information about the new Rules in the docs.
---
ARPU / ARPPU Improvements
ARPU and ARPPU metrics are often used in apps' monetization analytics to understand the profitability of the average (paying) user. But there also should be the more detailed analytics for deeper cohorts revenue understanding.
Now, you can achieve this by choosing different user events for ARPU/ARRPU calculation. And also it is possible to measure average users revenue to the Nth day of their lifetime. This might be useful to estimate the unit economy and the mobile traffic profitability.
➡️ Check the docs.
---
TikTok Integration
In addition to Facebook (Meta) Conversions API we have released the integration with TikTok Events API to run Web-to-App campaigns using this popular platform.
This integration is available as a PRO feature, but don't hesitate to give it a try with Free 30-Day Trial.
➡️ Check the docs.
---
New Blog
Whoa! Look at this, isn't that cool? Here in Apphud, our mission is to help the apps to grow by boosting in-app purchases revenue.
We are doing that now only providing you remarkable analytics and handful tools. Another important thing is content. So, meet the completely new shiny Apphud blog.
Here you can find a complete knowledge base regarding the most essential moments of app monetization. In-app purchases is a complex thing that requires from developers, product managers and marketers a deep understanding of how to set everything up correctly and then improve.
So, we have a lot of articles that cover all crucial in-apps integration, analytics and experimenting areas. Feel free to use this knowledge base and make your apps better (and with bigger income).
---
New iOS SDK
The new iOS SDK version 2.7.0 includes:
WatchOS / tvOS support
Added new willPurchaseProductFromPaywall method, which allows to use A/B experiments in the Observer Mode
Internal cache improvements and bug fixes
Now you can delete or update promotionals using the same SDK method (grantPromotional) or via web interface. Pass 0 as daysCount parameter to delete an active promotional.
We're working hard to make Apphud the most reliable, stable and accurate apps' revenue data platform. The more outstanding updates are coming. Stay tuned!
---
Apphud provides the easy way to transform data into actionable customers' insights. We help mobile app teams at any product lifecycle stage. Implement our SDK to track in-app purchases easily, check advanced dashboards to make informed decisions, and launch A/B tests to grow even faster. Start using Apphud for free!